A walk you'll remember! It takes 2 hours and 15 minutes, but of course that doesn't include shopping stops at the various stores or well-deserved snack breaks! It is a stroll that will make you discover the most beautiful places to visit in Marseille, the must-see places, while giving you a breathtaking view! A nice city hike to do, equipped with good shoes to avoid sore feet. We obviously advise to do this walk with people who like to walk so avoid bringing children too young for such a long stroll! For families with children, it is better to take the Petit Train de Marseille at the Old Port, which will take you on a guided tour to Notre Dame de la Garde.
Remarkable places :
- Old Port
- Vallon Des Auffes
- Parc Borély
- Velodrome Stadium
- Notre Dame de La Garde

Hike Info
Distance:


17.02 kilometers

Difficulty:




Duration:


2 hours to 4 hours
Points of Interest
Enjoy the view of the Friuli Coast and Islands from the Corniche. By car or on foot, a breathtaking 8 km walk.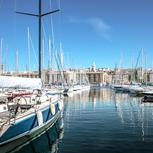 Inscrivez-vous afin de récupérer votre invitation pour notre présentation exclusive de l'annuaire du site MarseilleTourisme.fr !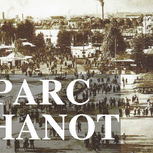 Le Parc Chanot est un lieu incontournable de Marseille ! La bien connue Foire de Marseille a d'ailleurs lieu là-bas chaque année ! Un lieu à ne pas rater.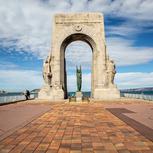 On the Corniche you can't miss this majestic monument. A must for all visitors travelling to the Vallon des Auffes or Malmousque.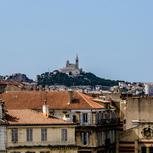 The Bonne Mère is known all over the world. It sits atop the Phocaean city and continues to attract visitors and pilgrims from all over the world.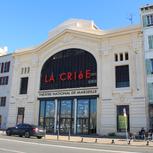 Le Théâtre La Criée se situe sur les quais du Vieux-Port de Marseille. Un lieu phare de la Cité phocéenne !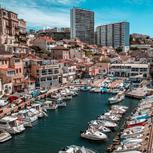 Don't miss the beauty of this traditional fishing port and let yourself be tempted by one of its restaurants.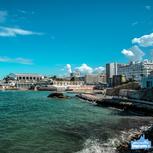 Les Catalans is a very popular sandy beach located almost in Marseille's city centre. A mythical address for all Marseilles residents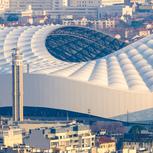 Discover our legendary Orange Velodrome Stadium! The highlights, the renovation, the dream in blue, the Olympique de Marseille in all its splendour! Come and watch a game of the famous OM team, and vibrate with the fans in the corners! A unique moment in perspective!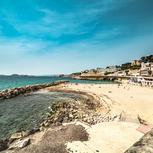 Le Prophète Beach is very popular in summer, both during the day and at night. It is a friendly place to come with family in the morning and friends in the evening.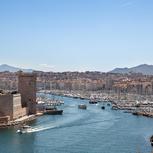 Emblematic site of Marseille with its sardine which is actually a boat that blocked the Old Port. Walk along the Old Port, let yourself be transported. You will enjoy the terraces of restaurants and cafés throughout your walk.