Advertise on MarseilleTourisme.fr
Would you like to display your advertisement on our website? It's simple, we now have dedicated spaces to offer you. The opportunity to take advantage of our 4 million visits to MarseilleTourisme.fr, and to see your advertising widely distributed.
I would like to rent advertising space
Where is your advertisement displayed?
Site layout
Your ad is displayed only on the home page but over the entire width of the user screen. For this advertising format, which gives you a high visibility since the first information displayed to the user, it is necessary to count 1200€/week excluding VAT.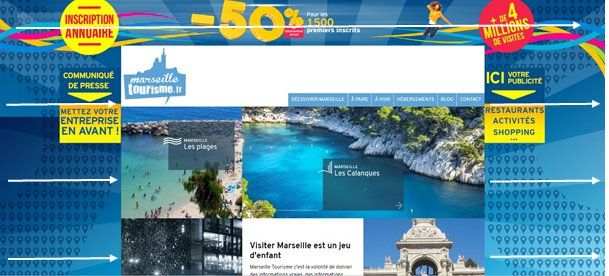 Header advertisement - banner:
Displayed on the home page in "large" format (see first illustration), and on the entire site as displayed on the second illustration here. You benefit from visibility regardless of the page visited by the user. Also, if he arrives on the site via a page shared via social networks for example and therefore does not go through the home page, he will still be affected by advertising. For this format, we use the cost-per-click (CPC) billing method, which amounts to 0.30 cts/click excluding VAT.


I would like to rent advertising space
Sidebar advertisement:
Does not appear on the home page, however, you are displayed on each page of the site and are therefore visible whatever the visitor's path on marseilletourisme.fr. You benefit from a space that follows the user's reading direction (from left to right). For this format, the invoicing method is the cost per click (CPC) method up to 0.30cts/click excluding VAT.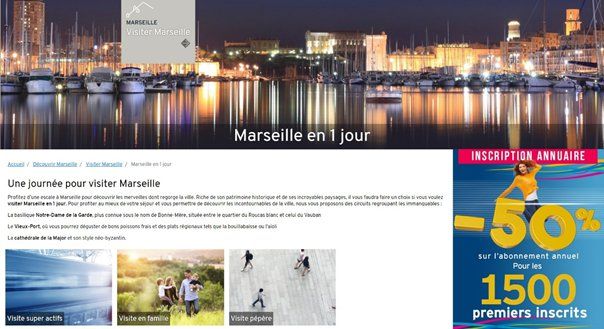 Footer advertisement - banner:
This last format is placed at the bottom of each page of the site. The user scrolls (scrolls) the page and is directly confronted with the advertisement. Here again, the visitor's reading direction, from top to bottom, allows you to end your visit on the page visited by your ad. A good way to anchor your business in the memory of potential prospects. Again, count 0.30 cts/click excluding VAT.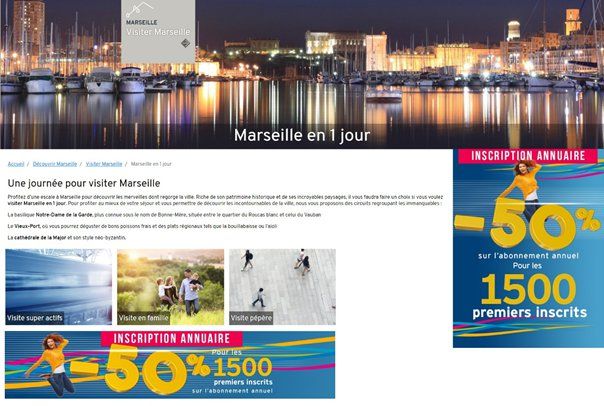 I would like to rent advertising space
Why choose marseilletourisme.fr as an advertising medium?
Choosing Marseille Tourisme as an advertising medium allows you to take advantage of multiple spaces dedicated to the promotion of the actors of the city of Marseille. We choose to offer 4 distinct spaces to find the one that best suits you and your needs. You benefit from increased visibility with 4 million visits to our site, as well as a community of 30,000 fans on our various social networks who visit the site very often being redirected from the many articles or press releases we share.
If you are interested in renting one of our advertising spaces, simply fill in this form, and after only a few questions and informations/elements to provide, we create for you an advertising visual, using the aesthetic codes of our site, while remaining in complete agreement with your corporate image, the product, or the promoted good plan. Do not hesitate any longer, and take your place at the heart of the Reference Guide on Marseille and its surroundings!