Are you planning a weekend in Marseille? You can't visit Marseille without a visit to the Corniche! Stroll through the 7th arrondissement of the Phocaean city and enjoy the typical narrow streets that have kept their charm of yesteryear.
The Corniche Kennedy
Following the Corniche Kennedy, which starts from the Catalan Beach, you will reach the Prado. The Corniche of Marseille owes its name to the then recently assassinated President of the United States. Did you know that along the ledge is the longest bench in the world? Its 3km length will leave you plenty of space to find a spot and admire the magnificent view of the Friuli islands.  Along the Corniche you will find many restaurants with views all more beautiful than the others. 
The Prophète Beach
Plan a picnic to relax on the Prophète beach. It is one of the oldest beaches in Marseille. Prefer to go there at the end of the day to avoid the crowds in the summer season and see a breathtaking sunset at the same time.
Le Vallon des Auffres
It is a small fishing port that has remained traditional. Le Vallon de Auffres offers restaurants, such as the famous Chez Fonfon, in a magnificent and peaceful setting. You can access it from the Corniche Kennedy, between the Catalan beach and the cove of Malmousque. You can't miss this marvel!
The Prado beaches
At the end of the Corniche, you will find the Prado beaches. Perfect places to relax, picnic or enjoy the beach restaurants that are very pleasant in all seasons!
The 7th district of Marseille
Be careful, good walking shoes are required to walk up the montée des Croquants or the Chemin du Roucas Blanc. The district is very pleasant to walk in Marseille. For the most enthusiastic, you can climb to the top of the hill, and admire the landscape of Marseille from Notre Dame de la Garde.
Did you enjoy this walk and are you asking for more? Why not take a boat rental and visit the Calanques of Marseille and Cassis? You can also opt for a cruise in the calanques.

Hike Info
Distance:

10.78 kilometers

Difficulty:

Duration:

2 hours to 2 hours
Points of Interest
Results ordered alphabetically
Discover the charming Roucas Blanc district in the 7th arrondissement of Marseille. Built on a rock, it overlooks the sea and offers exceptional panoramas!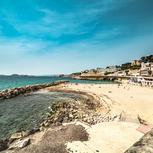 Le Prophète Beach is very popular in summer, both during the day and at night. It is a friendly place to come with family in the morning and friends in the evening.
Enjoy the view of the Friuli Coast and Islands from the Corniche. By car or on foot, a breathtaking 8 km walk.